Get involved and remain up to date: opportunities on the HHU campus
Come visit old haunts on the campus at your alma mater where you studied and spent so much time. Return to "your" university and experience it from a whole new perspective. The campus tours for alumni provide diverse insights into everyday life at the university. You might be reminded of your time at HHU or even discover something new: we offer interesting lectures and exclusive visits in addition to the campus tours.
Most important of all, though, there will of course be time to exchange and discuss both the good old days and new ventures. Refreshments will be provided during the get-together held afterwards.
Please check the HHU Alumni Network website for the latest information.
Only members of the alumni network are able to participate in campus tours and alumni meetings. Click here to register for free.
Keep your HHU email account – for your entire life
An eternal email address offers a special way to remain in touch with HHU for your entire life. Use the email account and allow us to inform you regularly about the latest alumni activities. The Alumni Coordination Office also offers the option of automatically renewing your email address. Have you received a reminder from the Centre for Information and Media Technology (ZIM)? Let us take care of this for you: simply forward us the email and we will arrange a life-long extension for you. Allowing you to continue using the storage space and convenient features after you graduate from HHU. See www.zim.hhu.de for full details of the ZIM services.
Keep up-to-date with your alma mater: become a member of our alumni network and subscribe to the HHUalumni newsletter. Learn all of the latest news from science, research and campus life. Receive invitations to guest lectures and events at HHU. Click here to register for the alumni network today!
Alumni Support – benefit from the professional experience of others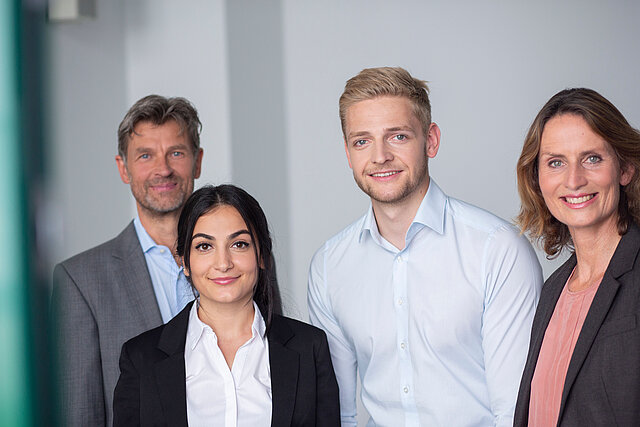 The Alumni Support project was launched in summer 2019 with the aim of facilitating a trustful and effective professional exchange exclusively between HHU alumni. We use a questionnaire to compile information on the professions and/or experience of our alumni. Recent graduates or alumni interested in a career change can then take advantage of this valuable information. The shared HHU past provides the common link, and the work involved for each individual is minimal but the professional support considerable. Click here to download the questionnaire (PDF). Alternatively, the Alumni Coordination Office can gladly send you the PDF upon request – and also answer any questions you may have!
Your graduation celebrations – allow us to accompany you!
While you celebrate your graduation and raise a glass to your exam success, we can capture your most wonderful memories in a series of photos should you wish. Register with the HHU Alumni Network to then be able to download these photos from an online portal after the event. Seize this opportunity to obtain some great photos of your exam celebrations.
Career service – become a speaker!
Calling all alumni: would you be interested in sharing your experience – on the transition from university studies to a professional career, for example? Do you have any tips for recent graduates? As an alumna or alumnus, you are always welcome at HHU, your alma mater!
The HHU Career Service organises events with employers and companies looking to hire young professionals (interns, working students, trainees, volunteers, recent graduates, etc.). Various types of events are held:
company presentations
practical talks
workshops
HHU Campus Fair
career lunches/dinners
company visits
(mandatory) internships
individual concepts
We advertise events with alumni in an "appropriate" announcement in our various media (homepage, online course catalogue, etc.). We can provide confirmation of your involvement as required. Get in touch today! We can gladly advise on the options that might be of interest to you.
"Stellenwerk" job portal & recruitment service
Are you a HHU alumna or alumnus seeking young professionals at short notice, either as an employer or on behalf of "your" company? Then you are welcome to use our "Stellenwerk" job portal, which is available online at www.stellenwerk-duesseldorf.de. HHU's job portal allows you to post job ads to source qualified graduates and flexible temporary staff as well as assistants, working students, interns, volunteers or trainees. It is also possible to book banners that link to your website.
Offers for dissertation students as well as private ads can be placed for free.
See www.stellenwerk-duesseldorf.de for full details.
There are five faculties at HHU. These form the backbone of the university and connect alumni to their studies. Would you like to attend a lecture series with one of your former professors? Or accompany the latest graduates' exam celebrations? You can give back to your faculty by sharing your experiences and all you learned there. Check on the Alumni Network website whether your former faculty or institute has its own alumni initiative for
Services of the University and State Library (ULB) Düsseldorf
The ULB Düsseldorf has participated in the BIX Library Index several times. This national benchmarking project for public and academic libraries compares libraries' performance and evaluates their services. The ULB Düsseldorf has always occupied top positions in the ranking and achieved high ratings in all four of the BIX categories of services, usage, efficiency and development. It has also often received gold ratings.
HHU alumni are able to take advantage of the services offered by the ULB Düsseldorf. The annual membership fee of €15 is even waived for alumni, who can continue to use the library's services after graduating. Conduct research, borrow books, order interlibrary loans – these and many more services are available at the University and State Library Düsseldorf – see www.hhu.de/ulb for details.